Welcome To Week 21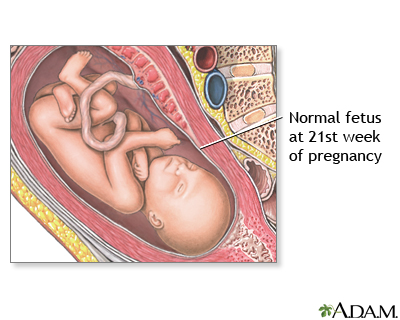 Your Baby: Head's Up
Your fetus weighs just under a pound at 10-11 ounces (300 g), and stands almost 7 inches (almost 18 cm) tall. She still has lots of space to move around in her amniotic bubble, but will begin to settle down toward the end of this trimester. Most babies get into a head-down position, but some don't flip until late in the last trimester. And some turn their heads down at first, only to summersault again later.
Your Body: Diabetes During Pregnancy
What is it? Gestational diabetes is the onset of diabetes during pregnancy in a woman who didn't have the condition before. With this type of diabetes, your body resists the effects of insulin, a hormone that controls the level of sugar (glucose) in your blood. Gestational diabetes is thought to result from metabolic changes brought about by one of the hormones produced by the placenta (the human placental lactogen).
What are the symptoms? Sometimes there are none, but you may experience excessive hunger and thirst, frequent urination, or recurrent vaginal yeast infections. Then again, you may have some or all of these signs and not have gestational diabetes.
How is it diagnosed? Between 24 and 28 weeks of pregnancy, you'll take a glucose loading test to screen for the condition. This entails slugging down a sweetened solution and getting your blood drawn an hour later. If you're among the 15% of pregnant women whose tests reveal abnormal blood glucose levels, you'll need a follow-up exam, called an oral three-hour glucose tolerance test. For this one, you'll fast overnight and then drink an even sweeter solution. Your blood will then be drawn at fasting and three times over a three-hour period to measure your glucose levels.
Who's at risk? Almost 50% of the women that get gestational diabetes have no risk factors, but the other 50% are more susceptible due to preexisting factors. Women who get pregnant after age 30 are at a higher risk than younger women. If diabetes runs in your family, you have an increased risk of getting it during pregnancy. Overweight women, those with a history of a previous pregnancy with the delivery of a large infant, and those who've had a baby with a birth defect or a stillborn delivery all have an increased risk for getting gestational diabetes.
On That Note: Gestational Diabetes In Depth
If you're at risk for gestational diabetes or simply want to know more about the condition, click on this gestational diabetes article.
Weekly Tip
Here's a surefire way to get the glucose down without making your stomach turn: Refrigerate the sweet solution overnight so that it's cold when you drink it, and sip it slowly with a straw over a 10-minute period. Both of these tricks tame the sickly sweet taste and make the medicine go down in the most delightful way.
---
Review Date: 12/9/2012
Reviewed By: Irina Burd, MD, PhD, Maternal Fetal Medicine, Johns Hopkins University, Baltimore, MD. Review provided by VeriMed Healthcare Network.
The information provided herein should not be used during any medical emergency or for the diagnosis or treatment of any medical condition. A licensed medical professional should be consulted for diagnosis and treatment of any and all medical conditions. Links to other sites are provided for information only -- they do not constitute endorsements of those other sites. © 1997- A.D.A.M., Inc. Any duplication or distribution of the information contained herein is strictly prohibited.