Welcome To Week 22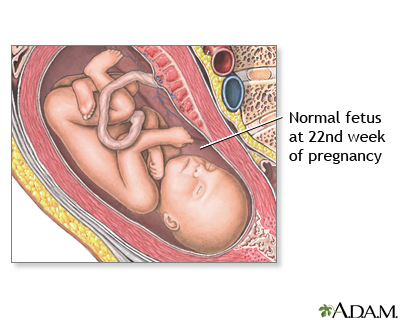 Your Baby: The Eyes Have It
Your fetus weighs about 12-13 ounces (350 g) and measures 7.5-8 inches (19 cm) in length. Your baby is really starting to look like a baby now! Now the fetus's senses are becoming more defined with taste buds being complete. Additionally, the nerve endings have been developed enough at this point for the fetus to feel things using her hands. If you could watch, you would see more movement and even to the extent of feeling other parts of her body. The baby has complete eyebrows and eyelids now.
Your Body: A Is For Anemia
What is it? Anemia is a condition in which you have too few red blood cells, requiring your body to boost its iron stores to help produce them. In your pre-pregnancy state, you needed a daily dose of about 15 milligrams of iron. Thanks to your growing fetus, you now require about 30 milligrams.
How is it diagnosed? Your caregiver can spot anemia with a blood test, which she will perform at your first prenatal visit. Most women pass this initial check for iron deficiency with flying colors. In fact, the majority of expectant mothers start off pregnancy with enough iron stores to last until week 20. At that point in your pregnancy, your blood volume increases tremendously and, with the increased volume, often the hemoglobin (the chemical that carries the iron) in your bloodstream drops because of the dilution of your blood.
Women with severe nausea and vomiting early on in their pregnancy, carrying more than one baby, on an inadequate diet with no iron supplement, or who have had another baby relatively recent to this pregnancy are all at higher risk for anemia.
Since the symptoms related to anemia often occur normally as a result of pregnancy, it is often not easily identified from symptoms alone. However, the symptoms that accompany anemia include: feeling very tired all the time, shortness of breath, dizziness, and exhaustion.
Severe anemia increased the risk of pregnancy problems, including prematurity, low birth weight, and stillbirth. Even mild anemia is risky for mothers, because all women loose a fair amount of blood at the time of delivery, and it's not good to start out with low blood counts.
For the best outcomes, avoid anemia during pregnancy by taking your prenatal vitamins, as well as any iron supplements your health care provider recommends.
On a Different Note: Looking Into Labor And Delivery
With 22 weeks down and 18 more to go, it's time to start thinking about labor and delivery. Check out this signs of labor article to learn the in's and out's (and do's and don'ts) of the birthing process.
Weekly Tip
Iron can be tricky for your system. To make sure that your body absorbs enough of this important mineral, take your iron pills with your morning OJ or other vitamin C-rich foods. Be sure to steer clear of caffeine, which blocks iron absorption. If your iron supplement makes you constipated, talk to your health care provider about safe ways to loosen things up.
---
Review Date: 12/9/2012
Reviewed By: Irina Burd, MD, PhD, Maternal Fetal Medicine, Johns Hopkins University, Baltimore, MD. Review provided by VeriMed Healthcare Network.
The information provided herein should not be used during any medical emergency or for the diagnosis or treatment of any medical condition. A licensed medical professional should be consulted for diagnosis and treatment of any and all medical conditions. Links to other sites are provided for information only -- they do not constitute endorsements of those other sites. © 1997- A.D.A.M., Inc. Any duplication or distribution of the information contained herein is strictly prohibited.