Welcome To Week 26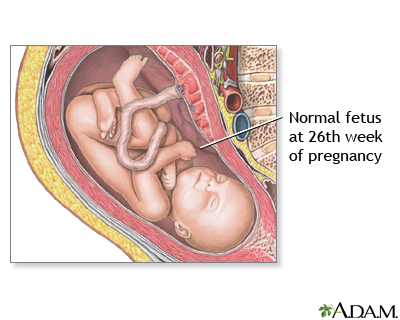 Your Baby: Lung Development
Your baby weighs approximately 1.5 - 2.0 pounds (850 g) and measures 9.2 inches (23 cm) from crown to rump. At this point, the baby's lungs and brain are much more developed than before and are still developing. The baby has eyelashes and is able to recognize light from dark that reveals the optic nerve has developed. Your baby can hear you and your bodily functions - heartbeat and digestion, among others - as well as outside noises including your voice and the voices of others. So if a sudden sound startles you, imagine what it does to your baby!
Your Body: Fit To Be Pregnant
It may be easier to exercise earlier in your pregnancy than during the last three months (third trimester) of pregnancy. Choosing safe exercises for you and your baby is important because some positions, as your weight and balance change, may become uncomfortable or have potentially harmful effects. It is recommended that after 20 weeks of pregnancy you should not do exercises that require lying flat on your back, because this position may make blood circulation more difficult.
For a total body workout that is low stress on joints and muscles, you may consider walking, swimming, or a stationary bike. It is wise to start slowly with the length of time you exercise at one time and always warm-up and cool down afterwards. With the extra weight from pregnancy, your body has to work harder than it did before. Exercise increases the flow of oxygen and blood to the muscles and diverts it away from other parts of the body. This makes it extremely important to not overdo the workout, or do any exercise that is too strenuous while pregnant. The intensity, duration, and frequency of the workout should not cause pain, shortness of breath, or excessive tiredness. Remember, the goal of exercise is for you to gain general benefits during the pregnancy, but not to do anything that would have detrimental effects on you or your baby.
The following recommendations are based on the American College of Obstetricians and Gynecologists and the American Academy of Family Physicians:
Avoid doing exercises that require being on your back, after 20 weeks.
Wear comfortable clothing that is supportive, but not constricting, and will help you to keep cool.
Consume an extra 300 calories a day that you need while pregnant.
Avoid getting overheated when exercising especially in hot, humid weather.
Drink plenty of water to keep well hydrated.
Recommended exercises include:
Walking
Stationary bike
Low-impact aerobics
Swimming
Sports to avoid because they are high risk for fall or trauma include:
Gymnastics
Horseback riding
Skating
Skiing (water/snow)
Hang gliding
Vigorous racquet sports
Weight lifting
Scuba diving
Note: If you are a high-risk pregnancy, you might have to curb or eliminate exercise entirely. Remember to consult your health care practitioner to determine what is best for your body.
If you are exercising during pregnancy and fall, especially if you land on your belly, seek medical attention immediately. Trauma to your uterus can cause the placenta to tear away from the wall of your uterus. This condition, called an abruption, can be life-threatening to both you and your fetus.
On a Different Note: Fetal Development In A Flash
Creating a new life is nothing short of a miracle. With this fetal development tool, you can get an insider's view of a baby in the making -- from conception to term. On this quick-time animation, you will be able to watch the entire development, specify portions of the pregnancy (i.e., weeks 15-25), or freeze the frame on a specific week.
Weekly Tip
Before crawling into bed at night, light some candles in your bathroom and draw a bath. Put in some aromatherapy drops or bath gel, if you have some handy, and turn off the ringer on the phone. Once you're safely in the tub, put your feet up and let the energy drain back into your legs. Taking a bath before bed may be a great solution to ensuring a good night's sleep.
---
Review Date: 12/9/2012
Reviewed By: Irina Burd, MD, PhD, Maternal Fetal Medicine, Johns Hopkins University, Baltimore, MD. Review provided by VeriMed Healthcare Network.
The information provided herein should not be used during any medical emergency or for the diagnosis or treatment of any medical condition. A licensed medical professional should be consulted for diagnosis and treatment of any and all medical conditions. Links to other sites are provided for information only -- they do not constitute endorsements of those other sites. © 1997- A.D.A.M., Inc. Any duplication or distribution of the information contained herein is strictly prohibited.