Welcome To Week 28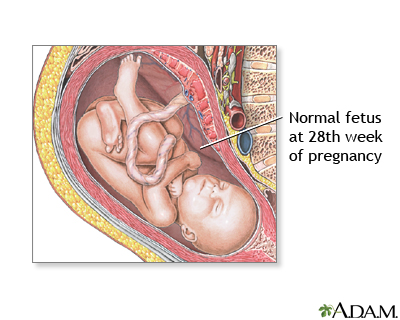 Your Baby: Seeing is believing
By now, your baby is approximately 15-16 inches long to (35 cm) and weighs about 2 pounds 4 ounces (1,100g) - just a tad over 1 kilo! You can see changes in your baby from head to toe. At this time, the baby's brain is developing more fully. Hair on your baby's head is growing more and more and your baby is truly looking like a baby now!
If you're carrying a boy, his testicles are on the move, making their way down from the kidneys via the groin en route to the scrotum. In a girl, you can make out the clitoris, but the labia aren't yet big enough to cover it.
Your Body: Counting Down To Due Date
Welcome to the third trimester, which goes from week 28 to 40 -- or until you give birth. By now, you may be feeling a mixture of excitement and apprehension as you approach the end of your pregnancy. Some women sail through the whole nine months symptom-free, while others watch their bodies grow and change in ways they never thought possible. On the other hand, some women may have some discomforts that may creep up during this trimester. Some of those discomforts may include:
Shortness of breath -- from the decrease in the space your lungs have to expand due to the growth of your uterus.
Problems sleeping -- usually due to not being able to find a comfortable position with the size of your belly, excitement, and, sometimes, a baby who decides to be active while you are trying to sleep!
Minor aches and pains in your hips, buttocks, thighs -- usually due to pressure from your uterus on the sciatic nerves.
Minor vaginal pain -- sometimes this pain is thought to be from your cervix slowly starting to dilate or getting ready to dilate.
Skin discomforts or changes -- such as dry skin on abdomen that itches, worsening stretch marks, varicose veins and vascular spiders (all from the growth of the baby and pressure from your uterus enlarging).
Bouts with leaking urine -- from the pressure of your uterus on the bladder.
Hemorrhoids -- sometimes worsen in this trimester due to the pressure from your uterus. Try to keep your stools soft so you don't have to strain while going to the bathroom. Straining can worsen your hemorrhoids.

Breast colostrum leaking -- this is normal, and it signals that your breast are preparing for breastfeeding.
To top it off, you may have a 10-mile long to-do list that includes finding a pediatrician, buying baby gear, preparing a birth plan, registering at the hospital and packing your bag, among others. No matter how you feel, however, remember this is a special time for you and your partner. So try to enjoy as you begin the final countdown and wait for the day when you and your baby finally meet face-to-face!
On A Different Note: Prenatal Tests Revisited
Around the 35-week mark, your health care provider will test you for Group B streptococcus, which is a type of bacteria in the vagina that may be carried by pregnant women. To learn more about Group B streptococcus and how you can treat it, click here.
Weekly Tip
Depending on how much weight you're carrying and how flexible you are, you might be feeling like you just can't lean down anymore. Some moms we know recommend wearing strapless shoes - for example, mules, clogs or thongs - so you can slip your feet in and out without having to bend over your belly all the time. Whatever shoes you wear, make sure that they have good support.
---
Review Date: 12/9/2012
Reviewed By: Irina Burd, MD, PhD, Maternal Fetal Medicine, Johns Hopkins University, Baltimore, MD. Review provided by VeriMed Healthcare Network.
The information provided herein should not be used during any medical emergency or for the diagnosis or treatment of any medical condition. A licensed medical professional should be consulted for diagnosis and treatment of any and all medical conditions. Links to other sites are provided for information only -- they do not constitute endorsements of those other sites. © 1997- A.D.A.M., Inc. Any duplication or distribution of the information contained herein is strictly prohibited.